Hello, the Scaredy Squirrel wikia welcomes you! This wikia is about the Cartoon Network show about a quirky Sqiurrel and his antics! The series has started on April 3, 2011 and ended on August 17, 2013. The series has had a total of 3 seasons and it still airs in reruns on YTV up until this day. We hope you have a great time on The Scaredy Squirrel Wiki!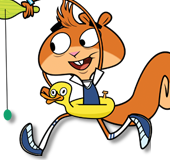 Ad blocker interference detected!
Wikia is a free-to-use site that makes money from advertising. We have a modified experience for viewers using ad blockers

Wikia is not accessible if you've made further modifications. Remove the custom ad blocker rule(s) and the page will load as expected.