Scaredy Squirrel

Series Logo

Premiere Date

May 21, 2010

Created By

Mélanie Watt

Genre

Action, Adult Animation, Comedy, Thriller, Sci-Fi
Scaredy Squirrel is a Canadian TV show that premiered on YTV on May 21, 2010. The show was picked-up by Disney XD, but instead Cartoon Network picked-up the show and premiered it on May 21, 2010.In the UK it airs on POP. The show follows the quirky adventures of a squirrel named Scaredy.
The show usually begins with Scaredy Squirrel farming out the theme song. The show then opens with the words "Warning: The character is based on the character created by Melanie Watt" then shows the title card of an episode.
So far, 52 episodes from Nelvana have been ordered by YTV and Cartoon Network, with 52 having aired in Canada, and 40 aired in the United States.
Characters
Edit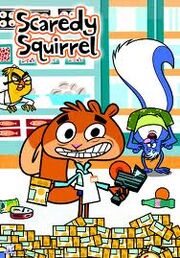 Scaredy - A quirky squirrel with a sense of responsibility and adventure. He is the Head Stacker at Stash 'N Hoard.
Nestor - A yellow hawk who is the manager of the show. He is not as nice as Scaredy, but on occasion has helped him many times.
Dave - A Blue Skunk Scaredy's friend who is more dirty and lazy than Scaredy is. He is more courageous than Scaredy, however.
Sally - A bass killer fish who is in love with Scaredy. While she is not residing as president of the S.N.E.R.D Fan Club, she is always stalking Scaredy, who doesn't return the favor.
Momma - The mother of Nestor and the owner of Stash 'N Hoard. She appears dramatically at any moment, and likes to fire people through the "blind-fold" tactic. She has a strict personality.
Richard - A plant who, likewise, doesn't do anything. He (or it) is Scaredy's best friend, but once was completely dried-up by the sun due to being left outside.
This is one of the many shows that Cartoon Network has aired along with YTV. Other shows that Cartoon Network has aired along with YTV were Sidekick, Almost Naked Animals, Beyblade, and Pokémon.
This show is based on the books written by Melanie Watt.