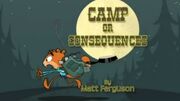 Camp or Consequences
is the 13th episode of
Scaredy Squirrel
. In this episode, Scaredy must save everyone from a mean-spirited camp after being mislead.
Characters
Edit
Minor Characters
Edit
WARNING: Spoiler Alert!
NOTE: THIS PLOT MAY BE INCOMPLETE. PLEASE EDIT THIS PAGE TO INCLUDE ALL OF THE PLOT.
Scaredy and Dave go to Camp Paddleball. They soon find out that does not teach paddleball. Steve gives out the rules (NO cheers and NO paddleball), much to Scaredy's dismay. He, along with his coach, Chip, brainwashes the kids along with Dave, but Scaredy refuses to befall to the coach. The brainwashed scouts then follow coach's orders as Scaredy tries to cure the kids and play paddleball. Scaredy fails over and over in his attempts and when Steve told him to go to the port-a-potty for his punishment. In his dream, Scaredy dreams that he will never get to play paddleball. Afterwards, he again tries to stop the coach's reign, but gets tossed into the outhouse. Afterwards, he steals the coach's whistle, cures the kids, and they all inprision Steve in the port-a-potty and continue to play paddleball.
This episode may have been inspired from the Game Boy game, Bart Simpson's 'Escape from Camp Deadly.
This episode marks the second appearance of the Beaver Boy.
In the Safety Corner of this episode, Scaredy gives a bad example of "camp safely".
Paddleball Camp is somewhat similar to "Camp Lakebottom".